SELECT * FROM cms_module_banners WHERE (category_id = "63") AND (expires > '2021-04-22 19:29:35' or isnull(expires)) AND (max_impressions = 0 OR num_impressions < max_impressions) ORDER BY RAND() LIMIT 0,1
13/10/2009
Beuchat Marlin Révolution: THE Rollergun !
---
News Psm
It was awaited, some were dreaming about and  some were at the point to have tried to manufacture itself, others doubted it. Beuchat puts a final point at the suspense and presents to us here the first official images of its Rollergun: the Marlin Revolution.

Born from the collaboration from Beuchat and Marc Antoine Berry, the objective of this "speargun" will be to increase the push considerably without to increas the retreat.

In a few words, is Marlin revolution it what?
• Optimization of the energy developed compared to the force implemented.
• Force propulsion at the beginning of thorough 62kg
• Force propulsion at the end of thorough the 22kg
• Developed total energy 460 joules
• Speed of the shaft at the beginning 46m/s
• Very weak retreat at the time of the shooting
• Very good handiness compared to the obstruction. (the barrel measures only 1050 mm)
• Outdistance shooting of at least 5 meters

How to obtain that?

• Marlin handle with mechanism stainless reinforced and new support winch
• Tube shaped in lamellate teak and insert carbon with guideshaft integrated making it possible to obtain an optimal rigidity and a perfect behavior in time.
• Head with pulleys assembled on rolls of the dice
• Side titanium flasks
• System QRS
• Ring stainless of fixing for the wire and guidance of line of the winch
• Attachment of propulsion: 1 elastic cord tractor of 19 and 2 sandows tensioners of 16 assembled with Dynema and connected by a specific part.
•  shaft Rockwell with slide of 7mm with a welded pin and a point triface with tongue reinforced by an axis of 2.5mm
• Double length of wire
• Bag of transport


An idea of the recommended public price? 749€
The pictures ?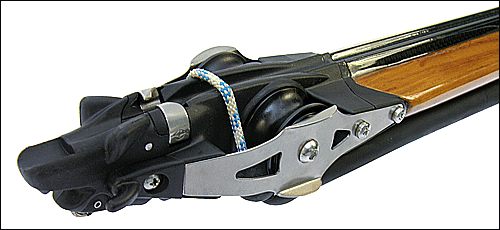 the head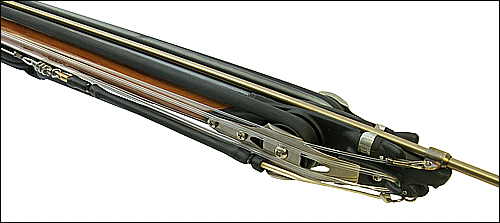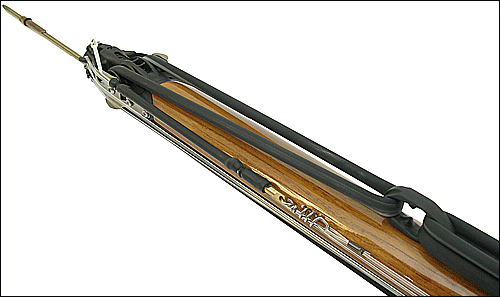 ---