SELECT * FROM cms_module_banners WHERE (category_id = "62") AND (expires > '2022-10-06 08:43:47' or isnull(expires)) AND (max_impressions = 0 OR num_impressions < max_impressions) ORDER BY RAND() LIMIT 0,1
12/10/2009
Vertical Blue 2009: Brigitte Banegas
---
News Apnée
If for many people the Vertical Blue 2009 (individual World championship of apnea) summarizes itself rather simply by a splendid confrontation of the elite world but also for the entry under fires of the slope of our very new male French team (Bourc' his, Nery, Poggi, Maldamé) with the remainder of the nations, we shouldn't however not forget the female side of this évênement of exception. For example, a Frenchwoman, Brigitte Banegas, decided to leave the swimming pools that she foamed since many years and with a certain success besides, to return to the salted element.
We decided to leave him the word not to say to give her a true homage !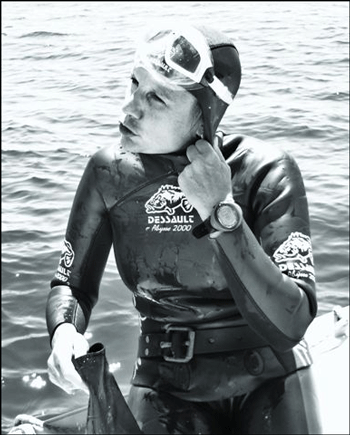 Psmcafe: Which are your motivations and objectives?

Brigitte Banegas: To rediscover the sea my first love of freediver thanks to the " Constant No fin" which gets much pleasure to me; the objective?  To be in final by bringing me closer to the 50 meters.


Psmcafe: Which are your dreams if you have some?

B-B: to be better in 10 years, a less polluted sea!!!


Psmcafe: Have you a stategie (if it is diffusable)

B-B: Chutttt!



Psmcafe: How do you apprehend this increadible moment ?

B-B: For me it's before everything a great festival, a " rendez vous " of the freediving elite and the pride to represent France (and my club).


Psmcafe: And the training how have you prepared this date?

B-B: Very late, because I began the training in the sea after the world championship of Denmark after 2 years of stop. I benefitted from my training in swimming pool, some week end in Nice under the advised councils of François Gautier, I thus could pass from 0 to 45 m in 2 months.


Psmcafe: the word of the end?

B-B: Still thank you to my club "apneau" and his leaders, because without their moral support and financier I would have remained in my town  Séte!!!!!!



Psmcafe: Thank you  Brigitte, you have all our encouragements!
---